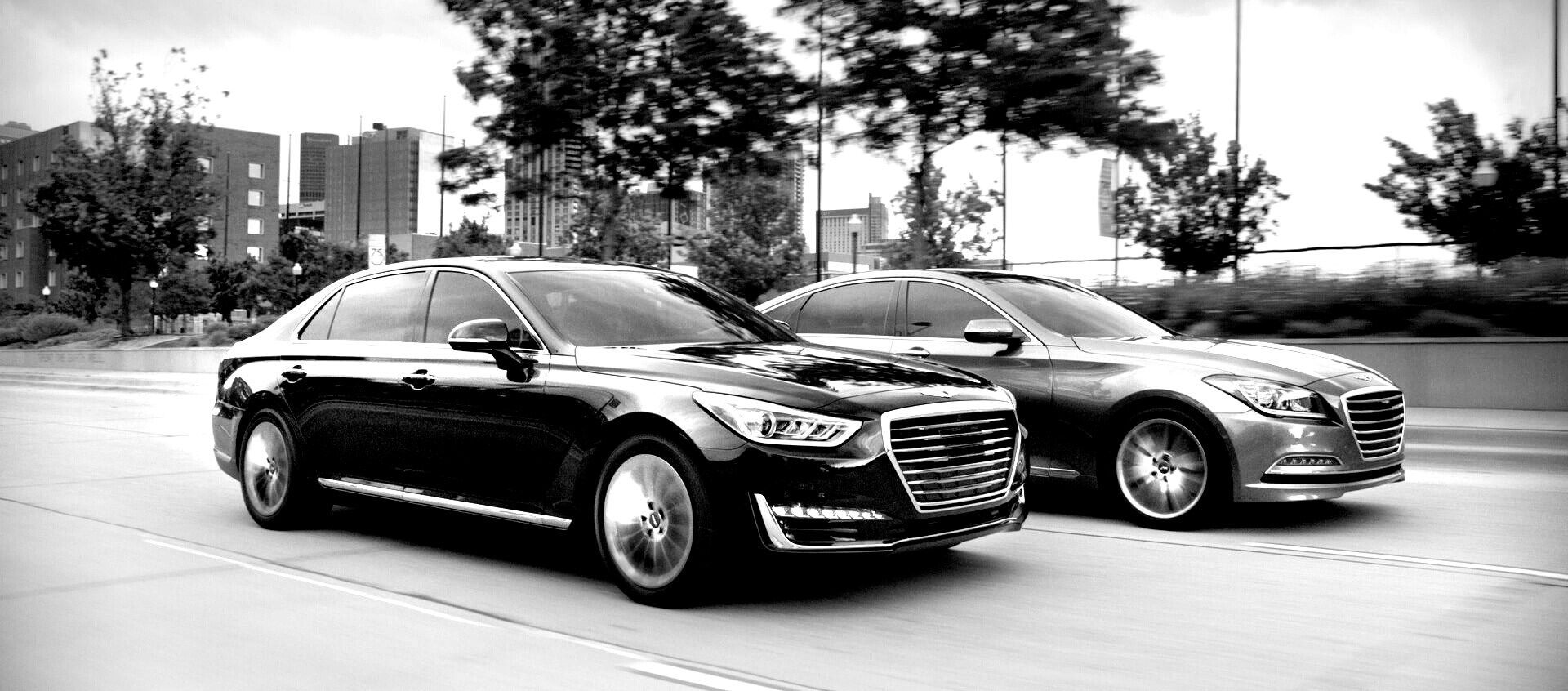 Hyundai has moved its premium luxury sedan lineup into its own brand name with its own distinctive logo. The 2017 G80 and G90 models making up the extent of the new Genesis lineup. Both models offer world-class levels of luxury, comfort, and features at a price that's significantly lower than the competition. They both deliver impressive levels of composed yet high-performance output, too, which is our focus here. Check out the Genesis brand performance, and if you're interested in the new Hyundai lineup then check out the full inventory at Allen Hyundai Turner.
Genesis G80 Performance Specs
With an MSRP from just $41,400, the Genesis G80 gives you two different engines to choose from: both of which come standard with an eight-speed automatic transmission:
3.8L V6 - The base engine on the G80 is a 3.8L V6 that makes 311 hp and 293 lb-ft of torque. With rear-wheel drive, it's able to get an EPA-estimated 28 mpg highway and 18 mpg city, but you can also opt for an all-wheel drive version that gets 25 mpg highway and 16 mpg city.
5.0L V8 - When you want more power, you can choose the 5.0L V8 engine with a total output of 420 hp and 383 lb-ft of torque. This version is rear-wheel drive only and gets an EPA-estimated 23 mpg highway and 15 mpg city.
Genesis G90 Performance Specs
The flagship model of the Genesis lineup, the Genesis G90 starts at $68,100 and is offered with two different engine options and a standard eight-speed automatic as well. On this model, though, both engines are offered with both rear-wheel and all-wheel drive:
3.3L V6 - While smaller than the V6 on the G80, the G90's 3.3L V6 actually gets more output, coming in at 365 hp and 376 lb-ft of torque. Regardless of the drive train, this powertrain gets an EPA-estimated 24 mpg highway and 17 mpg city.
5.0L V8 - This is the same 5.0L V8 engine found on the G80, which means it gets 420 hp and 383 lb-ft of torque. The EPA estimates that this version gets 24 mpg highway and 16 mpg city with rear-wheel drive or 23 mpg highway and 15 mpg highway with all-wheel drive. 
Test Drive the Genesis G80 and Genesis G90
Interested in financing one of the new Genesis models? Then come check out the lineup at Allen Turner Genesis, located near Ferry Pass and Brent at 6000 Pensacola Boulevard in Pensacola, FL. Feel free to contact us for more information.